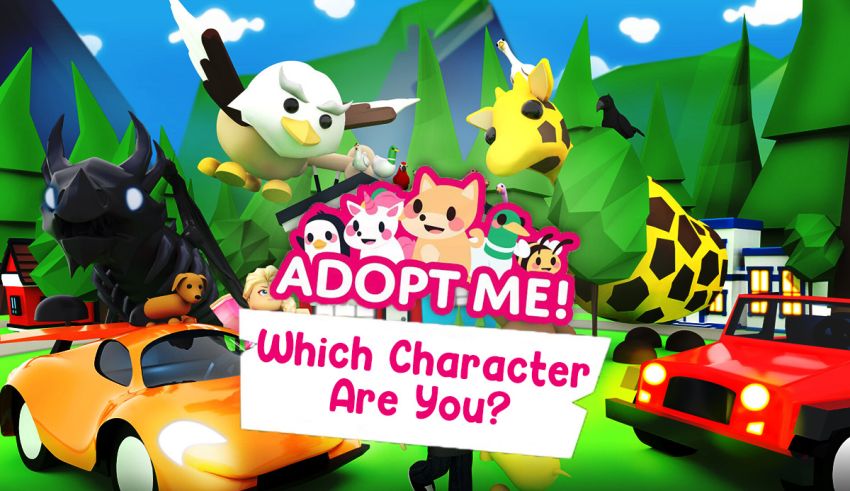 After analyzing your personality, this Adopt Me! quiz reveals which pet you are. Answer 20 Roblox-related questions to expose the cute animal within you in no time.
Adopt Me! Quiz Explained
It's a series of questions about your personality and the Roblox universe. The goal is to identify which Adopt Me! pet is similar to you.
We have already created the Ultimate Roblox Trivia Quiz. But this one is insanely different. There are no right or wrong answers. Your responses help us determine which of the many Adopt Me! pets you resemble in real life.
But that's not it. The results include additional pieces of information that we think any Roblox fan would love. See below for more.
Find out which Adopt Me! Pet you are.
The premise of the test is to answer one big question, "Which Adopt Me pet are you?" We have a database of common, uncommon, rare, ultra-rare, and legendary animals. Despite the game not revealing much about each pet's personality, we divided them into separate personality groups after analyzing them carefully. It's like finding out what animal you are but in the Roblox universe.
See what tricks you have.
One of the cutest things about Adopt Me! pets is that they learn tricks as they grow up. So, we wanted to give off the same vibe here in the quiz. By the end of the test, you see a list of tricks you would learn if you were an actual animal in the game.
Discover your type/rarity.
How unique of a pet would you be if you lived in the Adopt Me! universe? That's a type of question our quiz answers pretty accurately. We categorized the results into five rarity groups—just like the game. So, you know how precious of a finding you would be if someone hatched your egg. (That came out weird, though).
Common pets are the ones you'd find without considerable effort. They are pretty much everywhere.
Uncommon pets in the Adopt Me! universe are slightly hard to find—but not impossible.
Rare animals are ones that you should be proud of when having in your inventory. They're not easy to find, hence the name.
Ultra-Rare pets are challenging to find, acquire, or hatch. You don't see many Roblox players walking around with animals every day.
Legendary Adopt Me! pets are impossible to find or hatch. If you have one, it's probably the most precious thing in your inventory.
Understand your price.
Every Adopt Me! pet has a price tag. You can buy them via Robux or other in-game transaction methods. But the cool thing is that the quiz reveals how much you'd be worth if you were an actual domestic animal.
Get a personality analysis based on your pet version.
Questions like, "Which Adopt Me! pet are you?" are more profound than you may think. The whole process of taking the quiz reveals so much information about your true self. And we use those pieces of information to develop a comprehensive, detailed, and fun personality breakdown. By the end of the Adopt Me! quiz, you know why you matched a specific pet and what does it expose about your characteristics.
And more.
The Adopt Me! quiz results include other fun stuff about you and your pet persona. For instance, you will find out if you're a neon, mega neon, or just a casual animal. We'll also try to identify your age based on your responses. (Not your actual age, though. We're talking about your pet version's age).
Here Are the Names of All the Pets in the Adopt Me! Game
Common: Buffalo, Cat, Dog, Otter, Chicken, Robin, Bandicoot, Chick, Tasmanian Tiger, Ground Sloth, Stingray, Wolpertinger, Walrus.
Uncommon:
Blue Dog, Chocolate Labrador, Fennec Fox, Pink Cat, Puma, Snow Cat, Meerkat, Wild Boar, Black Panther, Capybara, Silly Duck, Drake, Wolf, Dingo, Pet Rock, Triceratops, Stegosaurus, Glyptodon, Bat, Snowman, Crab, Dolphin, Uplift Butterfly, Kirin, Halloween Black Mummy Cat, Halloween Blue Scorpion, Snow Leopard.
Rare:
Beaver, Rabbit, Elephant, Hyena, Bunny, Snow Puma, Brown Bear, Australian Kelpie, Cow, Pig, Swan, Polar Bear, Reindeer, Shrew, Rat, Emu, Monkey, Rhino, Woolly Mammoth, Dilophosaurus, Pterodactyl, Musk Ox, Lynx, Ox, Narwhal, Seahorse, Merhorse, Sasquatch. Halloween Evil Dachshund, Halloween White Mummy Cat, Husky. Summer Walrus.
Ultra-Rare:
Flamingo, Horse, Lion, Red Pand, Shiba Inu, Penguin, Crocodile, Platypus, Sloth, Zombie Buffalo, Bee, Turkey, Llama, Arctic Fox, Hedgehog, Dalmatian, Panda, Koala, Frog, Ginger Cat, Toucan, Starfish, Business Monkey, Toy Monkey. Sabertooth, Deinonychus, Albino Bat, Ghost Bunny, Yeti, Lunar Ox, Ladybug, Clownfish, Lamb, Red Squirrel, Hydra, Wyvern, Halloween White Skeleton Dog, Puffin, St Bernard.
Legendary:
Dragon, Giraffe, Griffin, Unicorn, Golden Penguin, Parrot, Shadow Dragon, Bat Dragon, King Bee, Queen Bee, Owl, Crow, Frost Dragon, Arctic Reindeer, Turtle, Kangaroo, Golden Unicorn, Golden Griffin, Golden Dragon, Diamond Unicorn, Diamond Griffin, Diamond Dragon, Albino Monkey, Monkey King, Ninja Monkey, Kitsune, Evil Unicorn, Golden Rat, Dodo, T-Rex, Skele-Rex, Cerberus, Robo Dog, Snow Owl, Frost Fury, Guardian Lion, Metal Ox, Golden Ladybug, Diamond Ladybug, Peacock, Octopus, Shark, Cobra, Goldhorn, Phoenix, Axolotl, Halloween Golden Mummy Cat, Halloween White Ghost Dragon, Golden Walrus, Ice Golem.
Note: The above list of pets was first published on the official Adopt Me! fandom website, and QuizExpo does not own it.
Why Do People Want to Know Which Roblox Adopt Me! Pet They Are?
The game has around 20 billion total visits. So, it's safe to say Adopt Me! is one of the biggest Roblox games ever. It has millions of loyal fans who play it every day. And it's natural for the community to ask things like, "Which pet am I?" or look for Adopt Me! quizzes online. Fans want to engage with the universe further and relate to its content.
Disclaimer
QuizExpo does not own any of the images used in the Adopt Me! Quiz. Please, Uplift Games and Roblox Studio own the said images. Please, contact us for any copyright infringement.
How to Play?
Playing personality quizzes is straightforward: Choose the option that's true about you—or you relate to—and select "Next." Unlike trivia quizzes, personality tests have no right or wrong answers. But the questions are in forced-choice format. The point is to push you to choose an option that makes the most sense, not the one that's 100% true. For the most accurate results, don't overthink your responses. Go with options that you "feel" are the best.
How many questions does this quiz have?
20 questions
How long does it take to complete this quiz?
7 minutes
Questions of the quiz
Question 1

If you were an actual Adopt Me! pet, what kind of foods would you like to eat?

Canned food

Something vegan

Junk foods

Special and expensive foods

Meat and steaks

Fast-foods

Question 2

Which personality trait describes the animal within you?

Loyal

Loveable

Crazy

Rare

Untamable

Lazy

Question 3

When would you become aggressive if you lived as a pet in the Roblox universe?

I only become aggressive to protect someone

I am not aggressive at all, no matter what

I'd become aggressive if someone humiliated me

I'd become aggressive when someone disrespected me

I'm usually aggressive and ready to attack

I'm aggressive when I wake up in the morning

Question 4

What kind of real-life animals attracts you the most?

Friendly ones

Cute and lovely ones

Funny and silly animals

Exotic and rare ones

Wild and scary ones

Sloth-like animals are my favorite

Question 5

If you had to marry an Adopt Me! pet, what would be your priority to find the right partner?

I look for a responsible partner

I look for a protective and strong partner

I would marry a cool and easygoing animal

I'd marry a special and unique pet

I'd like to have a tough and reliable partner

Marriage is too much work. I'll pass.

Question 6

How patient are you when it comes to hatching eggs?

Extremely patient

Patient enough to hatch them

It depends on my mood

It depends on how special the eggs are

I'm not quite patient

Hatching eggs is stupid. I don't like it.

Question 7

As a person, how friendly and outgoing are you?

I'm very friendly

I'm a bit shy but still friendly

It depends on who I'm with

I'm not quite outgoing

I don't like to be friendly

Being friendly requires too much energy. I pass.

Question 8

What type of Roblox players irritates you the most?

Ignorant and rude ones

Cruel and loud ones

Serious and dull players

Random and fake

Crybabies and childish ones

I don't like any Roblox players

Question 9

Which of the following activities sound like something you'd enjoy no matter what?

Walking or hiking

Cuddling and chilling

Partying and drinking

Reading books

Working out and training

Sleeping and not moving at all

Question 10

Of the following options, which one could be your favorite color?

Orange or green

Pink

Yellow

Purple

Red

Brown

Question 11

Pick a trick that you'd love to teach your pet.

Sit

Dance

Do something silly

Roll over

Attack

Lay down

Question 12

What is a reasonable price tag for an Adopt Me! pet?

10 Robux

50 Robux

100 Robux

5,000 Robux

1,000 Robux

Pets should be free

Question 13

How many hours do you spend playing Roblox (per day)?

1 hour

2 hours

3 hours

4 hours

5 hours

6 hours or more

Question 14

Which of the following words describes your personality better?

Energetic

Introverted

Extroverted

Indescribable

Legendary

Dead inside

Question 15

If you were an actual Adopt Me! pet, would you like to hunt?

Only if I had to feed my family

No, not at all. NEVER.

I'd rather gather fruits

It depends on my mood

Yes, I'd love to hunt

I'd be too lazy to hunt

Question 16

How difficult is it for you to make new friends? (10 means it's impossible)

Question 17

Which one describes your playstyle?

Trendy

Happy

Abnormal

Different

Inspiring

I don't have a playlist

Question 18

What is your favorite Adopt Me! currency?

Bucks

Candies

Gingerbreads

Robux

All of them

None of them

Question 19

What kind of Roblox costumes do you like the most?

Casual ones

Cute and trendy ones

Strange and funny ones

Expensive and rare costumes

Scary and dark ones

I'd rather be naked

Question 20

Final question; how old are you?

13-14

12 or younger

15

16

17

18 or older