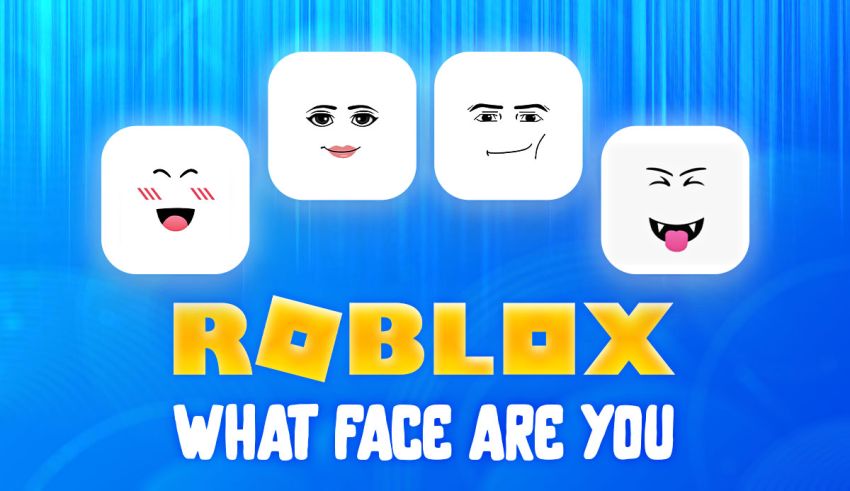 Don't you want to know what Roblox face you are? Every Robloxian has an inner personality that matches one of the 500+ head decals of the game. Are you a humble smiley face, a weird alien, or else?
A Quiz to Reveal Your True Roblox Face
The Roblox face quiz is a series of personality questions inspired by the game's experiences. The goal is to discover which of the in-game head decals matches the type of person you are. But the quiz can also reveal your Roblox face's worth, rarity, and popularity.
You don't need to be a pro to take this test because, unlike the Roblox Trivia Quiz, there are no right or wrong answers. You pick the options that make the most sense to you, and we reveal your face.
Here's what's included in your results.
Find out how much your Roblox face is worth.
How many Robux would others pay for it if your Roblox face was on an auction? 10, 50, 100, 1,000, more? Welp, you never know—unless you take the quiz. We analyze your face's attractiveness and popularity to price it.
Warning: you may not like your Roblox face's price tag.
See what type of Roblox player you are based on your head decal.
Are you the type who constantly changes your style? Or the role-play-maniac type? Have you ever tried to know which Adopt Me! you are? Do you get along with creepy players? These are some mind-boggling questions the Roblox face quiz answers after analyzing your facial features.
Choose an in-game face that matches your personality.
With its hundreds of different face designs, Avatar Shop can confuse you. You may struggle to find the decal that represents your gamer persona. And the search for the perfect face might turn into frustration, but not when you take a genuine Roblox quiz. The results could help you figure out the best face for your avatar.
How to Find Out What Roblox Face You Are
To discover your Roblox face, you can read the descriptions of head decals on the game's Avatar Shop. They'll give you small hints on what kind of player should wear a particular design and why.
The only problem is that Roblox has hundreds of faces. So, it'd be quite time-consuming to read all the descriptions in hopes of finding your perfect match. You can either use the following brief descriptions to find your face or take the quiz to save yourself some time.
#1. Super, Super Happy Face
With its self-explanatory name, the Super, Super Happy Face suites happy-go-lucky players, those who don't mind the bugs, crashes, and noobs.
The face's description says, "I am not sure I have ever been this happy." But as players, we all know that that's a cap.
Super, Super Happy Face is worth 100 Robux and is currently one of the most popular decals in the game.
#2. Man Face
Now a well-known Roblox meme, Man Face is a must in most gamers' inventory. More than a million players have already purchased this creepily smiling decal. But it suits noob hunters, the Roblox players who always mess with the newbies.
#3. Epic Face
Its description says, "ZOMG SO EPIK! SO FAIC! BUT IS IT OVER 9000?" which is not that helpful. But despite its weird smile and haunting eyes, Epic Face is a beloved decal. It is best for friendly players who spend most of their time petting and adoring pets.
#4. Sapphire Gaze
You know your Roblox face is Sapphire Gaze when you can't stop taking selfies. The decal represents a player who can "Get the look. Own the attitude. And strike a pose."
Some of the Iconic Roblox Faces that You Might Be
We are here to answer your big question, "What Roblox face am I?" But the chances are slim you match an iconic, rare one.
Here are some of the faces few participants see in their results.
Red Tango: the first colored face decal ever.
As Roblox's official website mentions, "Red Tango is actually a code name, and you are a spy for Her Majesty's Secret Service. Your cover is that you are an amazing Tango dancer." That's why it rarely shows up in the results; it's nearly impossible to spot the spies in disguise.
But another reason it's an iconic face is that Red Tango was the first colored decal on the Avatar Shop. So, it's a one-of-a-kind texture.
Shiny teeth: the face of every online dater.
Not everyone would like to match Shiny Teeth in the Roblox face quiz. It's because the decal has become the game's signature feature of ODers. When you see it, you know that the person behind the avatar is probably thinking about some naughty stuff.
Stitch face: the ugly best-seller.
If you randomly ask Robloxians, "What Roblox face are you?" many would pick Stitch Face.
With over 4 million sales on the game's store, Stitch face is surprisingly one of the most popular decals in Roblox. But players unanimously call it one of the ugliest ones, as well.
Robloxians! Your Face-Reveal Is Near
Here comes the moment of truth. For real, which Roblox face are you? Respond to 20 fun questions for a reliable and accurate result. We know what face decal you are and will be super-honest about it—maybe a bit brutal, too.
We dare you to bite the bullet and start the quiz.
Disclaimer
QuizExpo doesn't own any of the images in the Roblox face quiz. Roblox Corporation owns the said pictures, and no copyright infringement was intended.
How to Play?
Playing personality quizzes is straightforward: Choose the option that's true about you—or you relate to—and select "Next." Unlike trivia quizzes, personality tests have no right or wrong answers. But the questions are in forced-choice format. The point is to push you to choose an option that makes the most sense, not the one that's 100% true. For the most accurate results, don't overthink your responses. Go with options that you "feel" are the best.
How many questions does this quiz have?
20 questions
How long does it take to complete this quiz?
7 minutes
Questions of the quiz
Question 1

What makes a Roblox face super-cool?

Cuteness

The vibe it gives off

Mysteriousness

Silliness

Scariness

None of the above

Question 2

Have you ever envied another Robloxian for their face? Why?

Yes, because their face was so cute.

No, I'm happy with what I got.

Yes, their face was incredibly expensive.

Yes, I envied them because they looked so funny.

No, I'm the one everyone envies.

I'd like to skip this question because it's personal.

Question 3

Judging by their looks, what kind of Roblox players are intimidating?

Serious ones.

Sad or emo ones.

Ordinary ones.

Scary ones.

Cute ones.

All of them. (Everyone is intimidating in Roblox).

Question 4

Which one would it be if you could use one of these anime characters as your Roblox face?

Taiga Aisaka (Toradora)

Pikachu (Pokémon)

Light (The Death Note)

Monkey D. Luffy (One Piece)

I don't want an anime face. I'm not a kid.

Orochimaru (Naruto)

Question 5

How much are you willing to spend on your favorite head decal?

50 Robux

30 Robux

50,000 Robux or even more

0 Robux. I prefer free faces.

About 200 Robux.

It depends on my mood.

Question 6

What kind of head accessories are your favorite in Roblox?

Black Ponytail

ZZZ Headband

Roblox 'R' Baseball Cap

Happy New Year Rat

Royal Blood Beanie

Golden Headphones

Question 7

Of the following options, which one could be your comfort Roblox experience?

Blox Fruits.

Pet Simulator X.

Murder Mystery 2.

Work at a Pizza Place.

Natural Disaster Survival.

Scuba Diving at Quill Lake.

Question 8

What is your go-to activity in the game?

I like educational activities.

I prefer pet simulators.

I like trying out new experiences without my friends.

I just like hanging out with my friends and laughing at silly stuff.

I like beating newbie players in different experiences.

I'd rather keep my fav activities to myself.

Question 9

What is your avatar's costume's color?

Pink or white

Orange or yellow

Red or black

Colorful

Purple

None of them

Question 10

How many pets do you own in the Roblox universe?

3-5

6 or more

2

1

0

I hate pets.

Question 11

How many friends do you have in Roblox?

15-20. I love making new friends.

25 or more. I love all of them.

3-5. I have a small circle.

No one wants to be my friend.

I don't need any friends.

That's personal information. I'd like to skip the question.

Question 12

How much real-life money have you spent in the Avatar Shop so far?

$500 or more

$400

$300

$200

$100 or less

I've never used the Avatar Shop.

Question 13

Choose a facial expression that you'd like to give your avatar.

Happiness

Surprise

Contempt

Sadness

Anger

None of them. I hate facial expressions.

Question 14

Which one describes an ideal smile for a Roblox face?

A cute, gentle smile.

A huge mouth-wide-open smile

A disguised and implied-by-eyes smile

A silly smile

A devilish, scary smile.

I don't like smiles at all.

Question 15

What is your Roblox avatar's prominent mood? (In your opinion).

Energetic

Calm

Stressed

Excited

Irritated

My Roblox is super-moody. So, maybe all of them?

Question 16

How do you react when someone compliments your style or face in a Roblox experience?

I smile, thank them, and say something nice back.

I just smile and try to be polite.

I overthink their intentions.

I say silly things because I'm insecure.

I ignore them and ask them to leave me alone.

I change the topic to random nonsense.

Question 17

Roblox aside, what kind of games do you often play?

I don't play any game but Roblox

Farming or city simulators.

Role-playing games.

Random mobile games.

Online first-person shooters.

Any game that I can get my hands on.

Question 18

What do you think of The Mimic Roblox?

It's super scary. I can never play it.

I don't like its vibe. I prefer relaxing games.

It could be a great game if it had a better story.

I don't know what it is.

I love it. The Mimic is one of my favorite games ever.

I can show you scarier games. The Mimic is just silly.

Question 19

How many hours do you spend playing Roblox per day?

About 5 hours

2 or less

4 hours

3 hours

6 hours or more

It depends on my mood.

Question 20

Final question; how old are you?

12 or younger

13

14

15

16 or older

I'd rather not say.