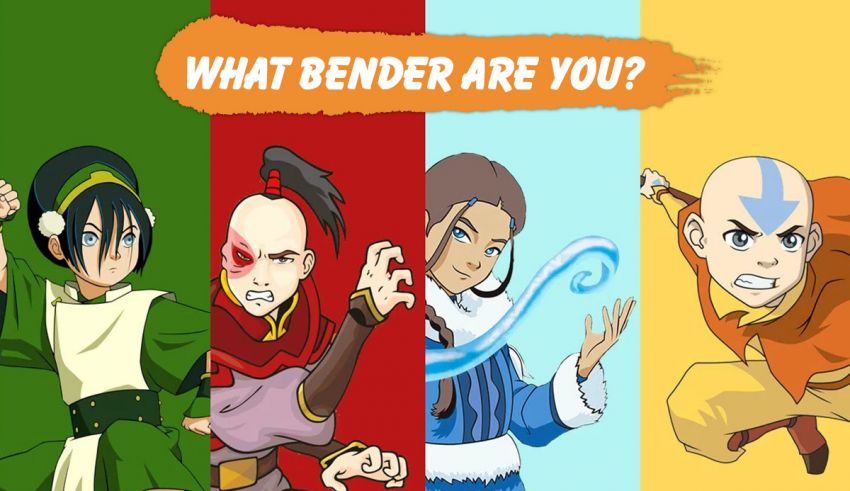 Air, Fire, Water, or Earth, What Bender are you? This quiz will help you find your Bender type with some amazing questions about your abilities and personality.
How much do you know about Bending arts and benders? If you are a fan of fantasy characters and have a great interest in superhuman powers, you should know benders. In general, bending means manipulating the basic elements and using them as power. And those who can do this are called avatars. According to various sources, there are five binding arts, four of which are related to the physical and main elements, but the fifth bond is related to the human body's energy. They are Airbending, Waterbending, Earthbending, Firebending, and Energybending.
What Bender are you?
This question was also interesting because we wanted to see which banding we could do and how strong we were. It is also fascinating and easy to understand the answer to this question. How? Start the "Which bender are you?" quiz and answer some simple questions.
Bending Arts
As mentioned earlier, four Bending arts are defined based on the four main elements of water, fire, earth, and wind. Manipulated by unique martial art styles, each reminiscent of its own characteristics. Benders generally conducted this by moving their hands and feet, but others could make these bendings with small body motions. And those who were really skilled did so only through sheer focus and force of will. These four kinds of bending are energy-dependent. Energy flows from the human body and interacts with the environment, eventually manipulating the elements. So let's see what these bendings are and what are the characteristics of benders:
Airbender:
Air Nomads do this bending art, and their main element is air. The benders that do this manipulation are calm and full of hope and imagination. They always like to end arguments with new ideas and techniques because they always prefer to be in a calm and peaceful environment. Airbenders in a conflict are very dynamic and exhaust the opponent with successive movements and defeat them by producing massive winds. They are the element of freedom. Their favorite color, animal, and season are white, sky bison, and fall, respectively.
Firebender:
The people of the Fire Nation use Firebending. These benders are natural leaders and always compete with others to be better. They are passionate and ambitious and rarely rest because they believe that hard work is needed to achieve success. The fighting style of fire benders is head-on, and they never defend because they want to strike one after another. They rely on their hands and feet and produce fire from every punch and kick. Time is precious to them, so it is useful during the day and full strength at noon. Firebenders are elements of power. Their favorite color, animal, and season are red, dragon and summer, respectively.
Waterbender:
The people of the water tribe use Waterbending. These benders are very social and easily make friends. In doing all the work, emotions guide them, and they do not like conflict. They are easily adapted to new environments and changes, so they are an element of change. In times of conflict, they depend on the upper body, and their movements are like dancing. Depending on the circumstances, they attack or retreat and usually do not start a conflict. Their favorite color and season are blue and winter.
Earthbender:
The people of the Earth kingdom use Earthbending. These benders are strong, permanent, and conflict resistant. They depend on the land and conditions and do not adapt to changes in any way. In times of conflict, they rely on the lower body, and their fighting style is a combination of defense and attack. Earthbenders are also very patient and rarely get nervous. They are the element of substance, and their favorite color, animal, and season are green, badger moles, and spring.
Start the Avatar Quiz
So now that you know the four main bending arts, if I ask, what type of Bender are you? What is your answer? Some of you may have recognized and can quickly answer this question, but what is the solution for those who have not yet been able to answer?
Today, the best and easiest way to answer the question, "What kind of bender are you?" is playing a personality quiz. One of these exciting quizzes is the Avatar quiz, where you can find out which avatar you are and which bending you can do by answering several questions. Even searching this query, "Which bender are you?" You can find different quizzes.
How to Play?
Playing personality quizzes is straightforward: Choose the option that's true about you—or you relate to—and select "Next." Unlike trivia quizzes, personality tests have no right or wrong answers. But the questions are in forced-choice format. The point is to push you to choose an option that makes the most sense, not the one that's 100% true. For the most accurate results, don't overthink your responses. Go with options that you "feel" are the best.
How many questions does this quiz have?
20 questions
How long does it take to complete this quiz?
4 minutes
Questions of the quiz
Question 1

What time of day is your performance good?

At noon

At evening

At night

At any time of the day

Question 2

In what season of the year do you like to travel?

Question 3

What environment do you usually like to live in?

Calm and peaceful environments

In crowded places full of conflict

In friendly and intimate environments

Safe places with plenty of lands

Question 4

Choose a place for a holiday

Question 5

Which of the following animals do you like the most?

Sky bison

Dragon

Badger moles

None of them

Question 6

Which one is valuable to you?

Life

Time

Emotions

My living place

Question 7

If you had to describe yourself in one sentence, what would it be?

I am full of hopes and imagination

I always compete with others to be better

I prefer to be kind and supportive rather than right

I am a patient person and I rarely get nervous

Question 8

Which color clothes do you prefer most?

White

Red

Blue

Green

None of them

Question 9

Your personality is the element of.....

Freedom

Power

Change

Substance

Question 10

Which part of your body do you feel is stronger?

My whole body

Hands and feet

My upper body

My lower body

Question 11

Which of these supernatural abilities would you like to have?

Ability to fly

Generating light

Healing power

Metal bending

Question 12

Do you adapt quickly to change?

Yes, somewhat

Not much

Yes, I always welcome to change

Not at all

Question 13

Choose a fictional place.

Question 14

Suppose there is a physical conflict. What is your fighting style?

Evasive maneuvers

Heao-on

Different movements depend on changing the opponent's position

A mix of defense and attack

Question 15

Choose an ATLA..

Question 16

How do you make decisions in critical situations?

Calmly and with the help of new ideas

With my feelings

A combination of logic and emotion

By my logic

Question 17

What is your favorite colored contact lens?

Gray

Gold

Blue

Sea foam green

Question 18

Choose a fictional weapon.

Question 19

What is your favorite profession?

Police officer

Culture teacher

Ambassador

Doctor

Question 20

How do your friends describe you?

Independent

Passionate and ambitious

Kind and supportive

Strong and persistent