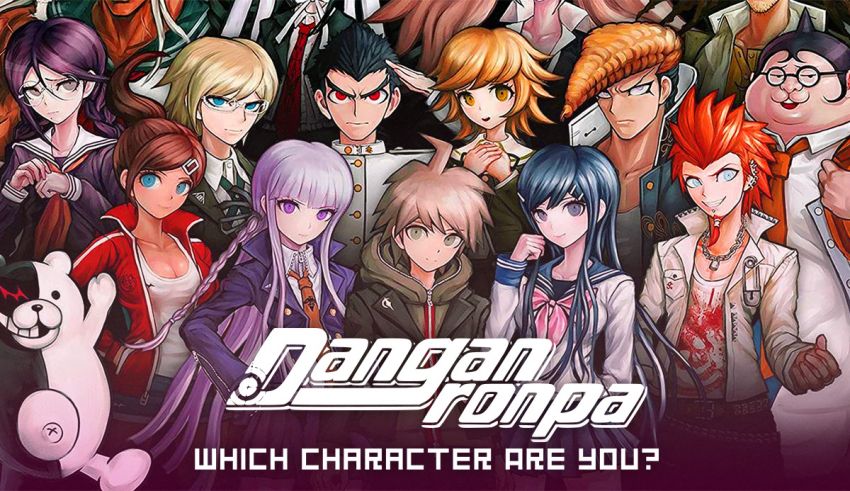 If you are a superfan of Danganronpa, you may look for an answer for "Which Danganronpa Character Are You?". This quiz is going to have an accurate answer for you.
Which Danganronpa Character Are You? (Test Explained)
The test reveals which Hope's Peak Academy student you are. It is a personality analysis exam containing twenty unusual questions about weird topics. The questionary is based on the ダンガンロンパ franchise. However, you do not find the right or wrong answer. You should choose the option that makes more sense to you to find the answer to "Which Danganronpa character are you?"
How does it work?
The test you are about to take works based on the franchise's main students' personality traits. The original Japanese video game introduced seventeen characters in the initial release. And each of them (students) had their distinguishable characteristics. Your answers, therefore, will be matched with the features and behavior of the leading students to find your soulmate—or Danganronpa avatar.
Does it contain all the characters in the series?
There are 17+ personalities in the first video game. However, the quiz on this page includes the most popular ones. More accurately, it answers the question of "which popular Danganronpa character are you?"
Is it based on the video game or the anime show?
Both of them. The Which Danganronpa Character Are You Test includes information from all the titles in the franchise. Although it is noteworthy that only the most popular students from the Trigger-Happy Havoc are included in the results.
Is it a trivia exam?
No, it is not. You are about to take a personality test. That is why there are no correct or false answers to the questions.
What Your Hope's Peak Academy Personality Says About You
The ダンガンロンパ franchise is one of the most controversial video games and shows of the recent games. It includes some provocative topics such as murdering high school teenagers. However, it also has some of the most interesting characters of the video game industry.
Your soulmate or Hope's Peak Academy says many things about who you are. That is because all the students have significantly distinct traits, beliefs, and behaviors.
Here are some of the things that the Danganronpa quiz exposes about you.
Talents
Hope's Peak is where the most talented students are allowed. So, your avatar has so many things about your hidden or visible abilities. Of course, that would not be an exact match. But still, you will have an idea of what kind of a gift you carry inside.
Motives
We are talking about a place where Killing School Life took place. It is also the same academy where you have to kill someone to escape. So, motives matter! During the franchise, you see how every character's intentions affect the storyline. So, if you match with a particular student, the chances are high that you share the same motivational system.
Beliefs
All the killing games in the academy are designed to push your beliefs to the limit. You have to remain objective, smart, and cautious the whole time. The only thing you have to conclude the right answer is your beliefs. The answer to "which Danganronpa character are you?" also reveals how you hold onto your views. That is because each student has a noticeable belief system that leads them when making decisions.
Personality
Are you a cruel person with an active Dark Core? Are you willing to do something wrong to save your loved ones? Do others see you as a trustworthy person? Let me put it this way, who are you?
The Danganronpa character quiz has some answers to that question. By taking the test, you reveal the good or evil side of your personality—that you might have never discovered otherwise.
Quick Danganronpa Character Test
It takes about 10-15 minutes to complete the Which Danganronpa Character Are You Test. However, if you do not have the time to finish it, here is a workaround. Answer the following three questions honestly. And then find out who your Hope's Peak Academy soulmate is. (Use the table of answers to get your results).
Question #1: What Is Your Idea of Life?
More precisely, what does life mean to you? One of the struggles of the Hope's Peak School is to hold onto their beliefs. So, you must have the answer to such fundamental questions to survive the killing games—and beat Monokuma. Now, please select one of the following options. (Choose the one that you think is the gist of life).
Life is a boring process of suffering.
Life is to hope; to hope is to live.
Life is a mysterious flow of events.
Life is cruel. But you have to love it.
Life is like an investment. Only those who risk it win.
Life is fun when you know how to beat the sh!@ out of it.
Question #2: What Is Your Primary Interest?
You are not eligible for any title in the Hope's Peak School—unless you are the expert in something. So, interests play an essential role in defining your Danganronpa personality type.
Please read the following words. And select the one that sounds the most interesting to you.
A. Blood
B. Guardian
C. Solution
D. Curiosity
E. Power
F. Pain
Question #3: What Would Force You Murder?
Let's get real. It is all about the will to kill. The whole game is based on the idea of forcing others to commit murder. Almost all of the students go through homicide-related decision-making procedures. So, if you wonder which ダンガンロンパ character you are, it is essential to think about your motives. What could turn you into an executioner?
Please select one of the following options as your possible intention.
A. Fun
B. Saving someone else
C. Loyalty
D. Fear
E. Authority
F. Boredom
| | | | |
| --- | --- | --- | --- |
| | Belief | Interest | Motive |
| Junko Enoshima | A | A | A |
| Makoto Naegi | B | B | B |
| Kyoko Kirigiri | C | C | C |
| Chihiro Fujisaki | D | D | D |
| Byakuya Togami | E | E | E |
| Monokuma | F | F | F |
How to Play?
Playing personality quizzes is straightforward: Choose the option that's true about you—or you relate to—and select "Next." Unlike trivia quizzes, personality tests have no right or wrong answers. But the questions are in forced-choice format. The point is to push you to choose an option that makes the most sense, not the one that's 100% true. For the most accurate results, don't overthink your responses. Go with options that you "feel" are the best.
How many questions does this quiz have?
20 questions
How long does it take to complete this quiz?
8 minutes
Questions of the quiz
Question 1

Junko offered you to help her kill an innocent student. What do you say?

I would never accept it

It depends on the offer's benefits

I would run away and tell everyone

I would help her only to caught her on the scene!

It sounds like a fun idea

I would love to help her

Question 2

Which of the following words sounds least ebarrassing to you?

Submissiveness

Selfishness

Weakness

Coldness

Betrayal

Hatefulness

Question 3

You enter a room in the Hope's Peak Academy. There is a dead body on the ground. What do you do?

I let everyone know

I probably leave before anyone notices

I scream as loud as possible

I start searching for pieces of evidence

I enjoy the scenery

I wish I could be the murderer

Question 4

What is your biggest nightmare?

Dying alone

Going homeless

Revealing my secrets

Being betrayed

Not having fun the way I want

Being a nice person

Question 5

The Killing School Life is on. What do you do now?

I fight for my friends' lives

I try to survive no matter what

I find a way to hide

I create a strategy to survive

I make fun of those who are scared

I enjoy the beauty of the moment

Question 6

Which one sounds like a fun plan for your weekend at Hope's Peak School?

A movie night

A cup of fine coffee and a good book to read

Secretly making love with a student

Practicing and working out

Setting traps for others

Planning a murder

Question 7

Which of the following deeds is the worst thing a human could do?

Killing one's own friend

Remaining a weak person your whole life

Lying to your loved ones

Living a life in the shadows

Believing that good people go to heaven

Thinking that life is not a misery

Question 8

Would you ever kill someone to save yourself?

Maybe

Yes

No

Sure

Is it a joke? Hell yeah

I would enjoy killing my enemies

Question 9

What is the most moral way to get rid of your nemesis?

Lock them up

Assassinate them

Running away

Scare them away

Tearing them into pieces

Killing their loved ones

Question 10

What would you like to do to the mastermind behind all Hope's Peak Academy's killing games?

Kill them

Torture them

Nothing

Imprison them

Join them

Admire them

Question 11

You realize that your classmate likes to wear the opposite gender's dress. What do you feel about that?

It is totally fine

I don't care for what they wear

It sounds cute

I don't know

I make fun of them till I die

I keep that secret for when I need it to hurt them

Question 12

What do you think about revenge?

It is not fun

It is essential

It is pointless

It might be necessary

It is fun

It is the most important goal of my life

Question 13

Who do you think should be saved first if there is an earthquake?

Kids

Me

Everyone

I don't know

No one

Those who deserve to live

Question 14

People think that you are a hero. Do you agree?

Maybe

Yes

No

Sometimes

I hate heroes

They have no idea who I am

Question 15

Do you think that the Killing School Life would be fun?

No

Only if I get a VIP seat to watch

Never

It could be

Hell yeah

It is a philosophy

Question 16

Chihiro is crying all alone. What do you say to them?

It'll be okay

Nothing

You deserve to be loved

Put yourself together

LOSER!

I say nothing and enjoy their despair

Question 17

Do you think that you should do anything and everything to achieve your goals? (Even immoral things).

No

Yes

Never

Sometimes

Morals are stupid

I sacrifice everything I have for my goals

Question 18

Kyoko thinks that Junko is a murderer. But she has no proof. What do you do?

I listen to both sides carefully

I wait

I hope she's wrong

I suspect both of them

I try to force them to fight

I admire Junko if she's a killer

Question 19

Does Naegi deserve to be the protagonist of Danganronpa?

Yes

No

Probably

I'm not sure

He is a stupid kid, not a hero

Who cares about him?

Question 20

Finally, would you betray your best friend to escape the Hope's Peak Academy?

No

Yes

Probably

Sure

I like it in here

I might do that for fun