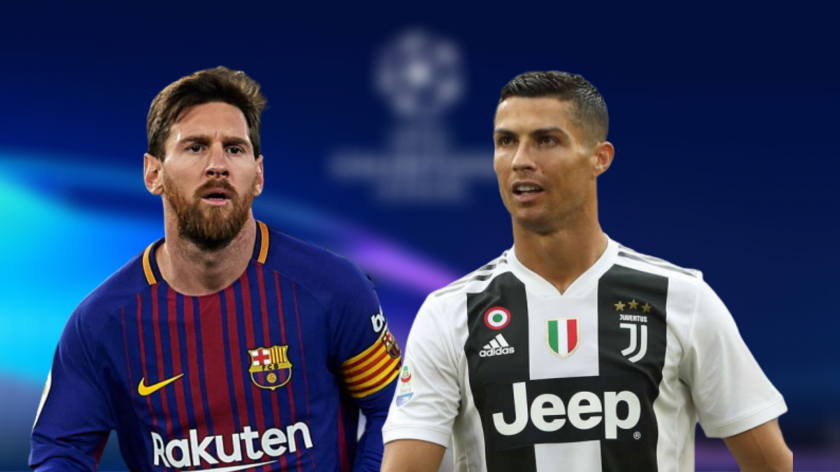 Are you a fan of Messi or Ronaldo? Which one of them has won more awards and which one of them is better? Can you pass this quiz as a fan of them? Challenge yourself by answering these 12 questions.
We want to talk about the famous football players Cristiano Ronaldo and Lionel Messi. All people of all ages know these players, and they are good role models for football beginners. They have their own unique abilities that amaze their fans.
Cristiano Ronaldo dos Santos Aveiro
He was born on 5 February 1985 in Madeira, Portugal, his father was Jose Dinis Aveiro, and his mother is Maria Dolores dos Santos Aveiro. In 1995, when Ronaldo was at age 10 begins football by joining his hometown football team"Nacional" and after a good showing for them, joined one of Portugal's biggest clubs, "Sporting CP."
In UEFA Champions League in 2003, Manchester United coach Alex Ferguson was surprised Ronaldo's performance and brought him to Manchester United that same year. While Ronaldo was with Manchester United, Manchester United won many awards including three league titles. Ronaldo has played 196 matches for Manchester United and scoring 84 goals. In 2009, Cristiano Ronaldo was joined to Spanish club Real Madrid, as an expensive player in the world with an 80million £ contract. After nine seasons with Real Madrid, in 2018, he became a member of the Italian powerhouse Juventus.
So overall Ronaldo has scored 539 goals in his career so far. Cristiano Ronaldo received many awards such as the Ballon d'Or award in 2008, the FIFA World Player of the Year Award in 2013. Cristiano Ronaldo is the highest scorer in the history of Real Madrid with 338 goals and is the most top ever goalscorer in the UEFA Champions League with 89 career goals to date.
Lionel Messi
He was born in 1987 , in Santa Fe Province, Argentine. Messi started his football at the age of five with his father coaching in the Grandoli team. Unfortunately, at age 11, doctors diagnosed him with growth hormone deficiency disease. At this point, FC Barcelona's sports director Carles Rexach said that if he comes to Spain and joins the Barcelona team, he will pay all his medical expenses.Messi was only 13 years old when he made his debut in FC Barcelona. When he was 16, Messi made his first appearance for Barcelona on May 1, 2005.
The Barcelona team had many successes with Messi, especially in 2009, when the left-footer's team got the Champions League, La Liga, and Spanish Super Cup titles and Spanish Super Cup championships in 2010 and 2011, also the '11 Champions League name and La Liga. By the end of 2012, he has scored 91 goals in both club and international matches. He won 9 La Liga, 6 Copa Del Rey (Spanish Cup), 7 Spanish Super Cups in FC Barcelona, 4 UEFA Champions League, 3 UEFA Super Cups and 3 Fifa Club World Cups for Barcelona FC.
Ronaldo won two " The Best" awards, while Messi hasn't won yet. Ronaldo also received 6 'Pichichi' awards from the Champions League while Messi received two. Even he has won the award for best player in Europe by UEFA, one more time than Messi. However, Messi has five gold shoes, and Ronaldo has 4.
Messi has 4 Champions League titles and nine league title, but Ronaldo has 5. In matches they've both won, Messi has the privilege over Ronaldo. In 2008, Messi won the gold medal at the Olympic Games in Beijing and won the first place at the 2014 FIFA World Cup and lost to Germany in the final.
How to Play?
A trivia quiz comes with right and wrong answers. You receive one point for each correct response—but no negatives for the incorrect ones. Take your time and read the questions carefully because some might be trick questions. Choose an option and lock it in by tapping "Next." Lucky for you, the trivia quizzes have instant results. You see if your response was correct immediately. (Green is good, red is bad.) Even better, you can learn more about the topics with the "answer reveals," the fun-fact snippets that appear after each question.
How many questions does this quiz have?
12 questions
How long does it take to complete this quiz?
2 minutes
Questions of the quiz
Question 1

Who first won the FIFA World Player of the Year?

Question 2

Who has scored more in UEFA Champions League?

Question 3

Who has scored more in La Liga?

Question 4

Who has scored more penalties?

Question 5

Who does score most of his goals with left foot?

Question 6

Who is better in scoring by the head?

Question 7

Who has scored more in El Clasico?

Ronaldo

Messi

Both of them have scored the same

Question 8

Who is younger?

Question 9

Who is sponsored by Nike?

Question 10

Who is the most goalscorer in international football?

Question 11

Who has won more golden shoes?

Question 12

Who has scored against all of the La Liga teams?