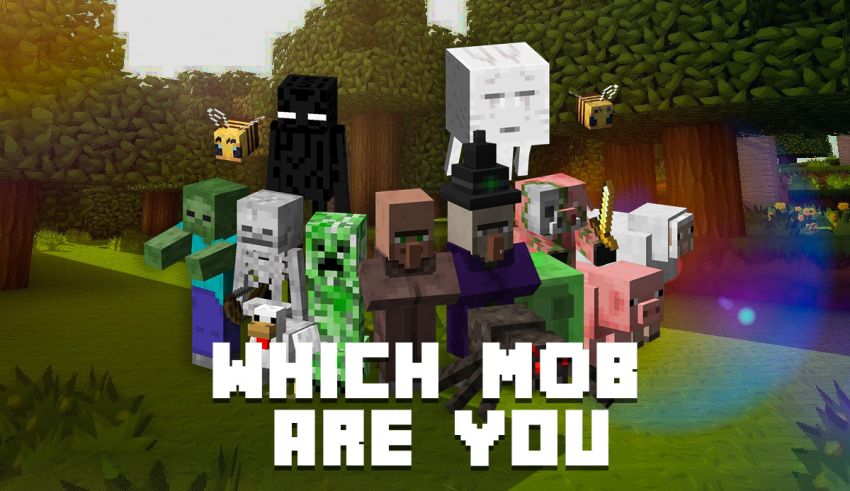 If you want to know what Minecraft mob are you, This Dream-level quiz reveals it. Are you a Zombie, Creeper, Chicken, Enderman, or else?
Wait a Minute, What Minecraft Mob Are You?
Mobs are mobile creatures in the Overworld. And there are currently over 60 living beings on the map. But have you ever wondered which one is similar to you? If yes, you are on the right page.
The unique test you are about to take is a personality questionary. Its goal is to identify which mob you are as accurate as possible. But unlike the Minecraft Trivia Quiz, there are no right or wrong answers. We analyze your persona based on your choices and decisions.
A Quiz to Mob-ify You
Fans genuinely google questions like, "What Minecraft mob am I?" But the ultimate answer is here. By taking our quiz, you get to know which of the sixty wandering characters of the game are similar to you—in no time.
But the results include additional information that exposes your mob type, behavior, block, and more.
Here is everything the test tell you:
Find out your type and behavior.
Minecraft game has three types of mobs, passive, neutral, and hostile. Each group has its distinct behavior scheme that determines how you can interact with them.
Passive mobs are those who do not attack you even when provoked or attacked.
Neutral creatures are the ones that strike you when provoked.
Hostile animals or characters attack you as soon as they see you.
How does that translate to your personality? Well, being a passive mob indicates you are a friendly and easygoing person. Being neutral means that you might get out of control when irritated. And matching a hostile creature is a sign that you are aggressive.
Discover what block you are!
It is weird. But the Minecraft Mob Personality Quiz exposes the type of block you are, too. Are you an untouchable Bedrock, a humble Hardened Clay, or a cold and emotionless Ice? That you can only find out by taking the test.
Get to know where your Spawn is.
Your Spawn as a mob is like your hometown. The quiz lets you know what part of the map is your actual home and how it affects you.
See if you would have any valuable drops.
Another weirdly fun thing the Minecraft Mob Quiz does is that it reveals your drop. We all need to feel useful one way or another. So, the big question is, would you be a valuable mob? The only way to find out is by reading your results.
How to Know Which Minecraft Mob You Are?
The test is a set of twenty Minecraft-related personality questions to discover your mob type. But not every fan would like to take an entire quiz for that. So, here is an alternative way to find out which mobile Overworld creature you are. Just read the following descriptions and decide which one you resemble in real life.
Note that there are 60+ characters in the game. So, obviously, we could not describe all of them here. (You can visit the official Minecraft Fandom for more info about other animals and monsters).
#1: Sheep
They have been there since the Java Edition Classic (2009). So, sheep are definitely among the oldest mobs in the game. But what kind of personality would be an excellent match for them? In real life, responsible, obedient, polite, and orderly people are similar to Minecraft sheep.
#2: Chicken
Chickens were a fun part of Java Edition Alpha. Did you know that Notch, the game creator, calls them the chicken/duck/whatever? Participants who match chickens in the Minecraft Mob Quiz have cautious and worrying personalities. They hate taking risks and prefer to avoid any sudden change in life.
#3: Zombie
Another Classic mob in Minecraft is Zombie for sure. They have been around since the early days. And many fans would jokingly say, "I'm zombie," when asked, "What Minecraft mob are you?" However, actual matches are those who stay awake all night playing Survival Mode.
#4: Panda
We could not ask for anything cuter than these lovely passive creatures. Pandas are among the newer additions to the game. But players cannot get enough of them. If you match a panda in the Minecraft Mob Personality Quiz, you are adorable as hell. Such a result shows that you have a cute persona and people just want to have you around because it makes them feel good.
#5: Or else
The possibility is almost endless here. You can match any of the sixty mobs in Minecraft. So, we recommend you to take the quiz for accurate and reliable results. Manual matches usually do not work out and are sloppy or biased.
Do People Really Want to Know What Mob They Are?
Minecraft has over 120 million active players. So, people would definitely want to know which mob, character, object, block, or whatever they are. It is both fun and insightful. Matching a specific mobile creature reveals lots of information about your persona, which interests many gamers.
Disclaimer
QuizExpo does not own any of the images used in the Minecraft Mob Personality Quiz. Mojang owns all the said pictures.
How to Play?
Playing personality quizzes is straightforward: Choose the option that's true about you—or you relate to—and select "Next." Unlike trivia quizzes, personality tests have no right or wrong answers. But the questions are in forced-choice format. The point is to push you to choose an option that makes the most sense, not the one that's 100% true. For the most accurate results, don't overthink your responses. Go with options that you "feel" are the best.
How many questions does this quiz have?
20 questions
How long does it take to complete this quiz?
5 minutes
Questions of the quiz
Question 1

What makes it difficult to survive in the Overworld?

Zombies

Lack of resources

Lack of equipment

I don't know

Stupid game mechanics

Who cares?

Question 2

What would suck about being a Minecraft mob?

The look

The lifestyle

Having a short, pointless life

Having no wi-fi

Dealing with stupid players

Misery of existence

Question 3

How often do you rage-quit Minecraft?

Never

Rarely

Once in a while

It depends

Everyday

When I'm not in the mood

Question 4

What is your favorite item?

Honey bottle

Egg

Carrot on a stick

Feather

Bone meal

Netherite Sword

Question 5

How do you prefer playing Minecraft?

Creative mode

Building houses

Exploring the map

Multiplayer

Survival

None

Question 6

What makes this game so popular?

Cute design

Brilliant idea

Fun gameplay

Social media hype

Difficult gameplay

Meh, it's an overrated game

Question 7

How many villagers do you kill on average every time you play the game?

0

1

2-3

4-5

6-7

I kill everyone at first sight

Question 8

Random question; how old are you?

Younger than 14

15-16

17-19

20-22

23-25

Older than 25

Question 9

What should be a Minecraft player's priority?

Enjoying the gameplay

Gathering resources

Building a secure house

Creating a team

Killing mobs and monsters

I don't know

Question 10

What type of players would you block from your server?

Rude

Cruel

Ignorant

Lame

Talkative

All of them

Question 11

What irritates you the most?

Loud noises

Careless activities

Laziness

Old-fashioned speech

Kids

Everything

Question 12

What is the coolest thing about the mobs?

They are cute

They are useful

They are intelligent

They are stupid

You can abuse them

Nothing

Question 13

What do you hate about the mobs?

Nothing

They might attack you

They might be hard to control

They are stupid

They have feelings

I hate everything about them

Question 14

What kind of mob would you be?

Funny

Peaceful

Hardworking

Ignorant

Irritated

Meh/Depressed

Question 15

Choose a word that describes your current mood.

Happy

Anxious

Calm

Bored

Angry

Sad

Question 16

What is the key to winning every battle in Minecraft?

I don't like battles

Defense

Support

Strategy

Attack

None

Question 17

Choose a word that describes you better.

Friendly

Responsible

Determined

Interesting

Old

Lonely

Question 18

Which of the following words sound silly?

Bumfuzzle

Fartlek

Everywhen

Hullaballoo

Meldrop

All of them

Question 19

What is your favorite Minecraft term/creature?

Biome

Bedrock

Nether Fortress

Redstone

Wither Skeleton

Witch

Question 20

Final question; did you enjoy the test? (Yes, it affects the results).

Absolutely!

Kind of, yeah

I think so

It was boring

It depends on the results

No, I hated every second