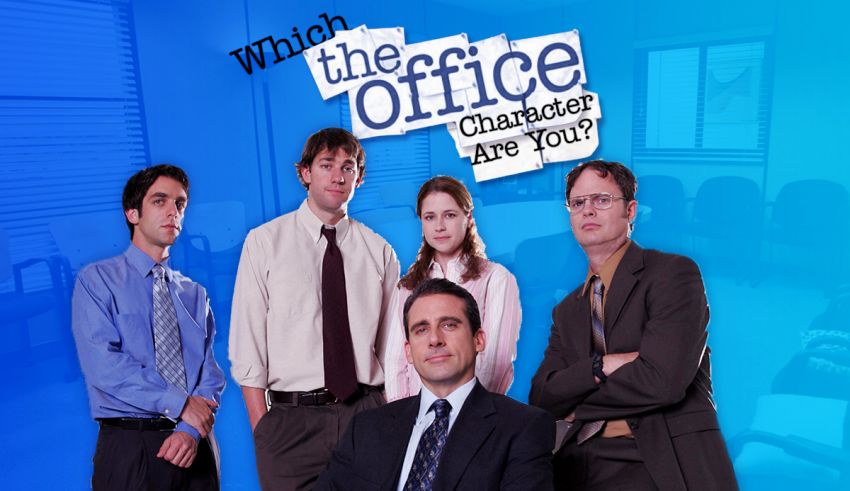 Which Office character are you? This 100% personality-oriented quiz will tell you. Answer 20 questions and find out who you are in the Dunder Mifflin universe.
The Office Quiz Is a Personality Test
The 'Which Office Character Are You' test is based on your personality type. You have to imagine you are a Dunder Mifflin employee, facing everyday challenges of the work environment. The goal is to expose your traits in a hypothetical workplace. That is how the algorithms decide which The Office character you are.
It Is Not a Trivia
You can already find The Office Trivia Quiz on QuizExpo. However, the test on this page is not about how much you know about this show. So, there is no right or wrong answer. The goal is to determine which character from The Office matches your personality.
Instructions
Taking the Office quiz is simple. First, click on the green "Start Quiz" button on top of the page. It leads you to the first multiple-choice question. You should select the answer that makes more sense to you or you relate to. Press the green "Next" button after choosing your answer, and keep going until you get to the last question. The results will pop up right after you answer the final query.
Keep in mind that you should not try to guess what your favorite character "would do." You should think about what you would do in that particular situation.
What Your Office Character Reveals About You
You might wonder which Office character are you for fun. However, the result offers some insight into what type of person you are in real life. Here are several things the test reveals about you.
Personality Type
Are you an INFJ or ESTJ? Is your personality type similar to leaders? What are your most significant characteristics? These are all sorts of questions the Office quiz answers. Your result includes some details about the type of your character and your individualities.
Your Career
People had different jobs in the Dunder Mifflin. Michael was a manager, Pam was a receptionist, and Dwight was Regional Manager Assistant. Their and personas played a significant role in their career. So, by taking the Which Office Character Are You quiz, you might uncover information about your career as well. For instance, if you are as serious as Dwight, you are good at task management. Or if you are kind and social like Pam, you are likely to succeed in operative jobs.
Your Relationships
What is your dating taste like? How do you manage your relationship challenges? What do your partners find attractive about you? These are questions that the Office quiz answers.
Things to Do Next
You receive a piece of customized advice at the end of the Office character test. Its point is to show the grey-dark sides of yours so you can change them. Remember, your traits form who you are—and that impacts your life. So, it is helpful to learn how to adjust your personality to make it your success factor.
3 Things to Know Before Taking the Office Personality Quiz
1- It Includes the Most Popular Characters
The original TV show has over 28 main characters. However, the QuizExpo test includes the most loved ones. Some of the results are Dwight Schrute, Michael Scott, Pam Beesly, and Jim Halpert.
2- The Questions Are About the Office Environment
All the events of the test take place in an imaginary Dunder Mifflin-like setting.
3- The Results Are Private
No one can see the outcome of the quiz but you. However, there is a share button at the end of the result page so you can show your friends which Office character you are.
Other Ways to Tell Which Office Character Are You
Think about your office crush
Science says that we are attracted to people that are similar to us. So, your Office crush is probably the most comparable person to you.
Let Others Decide
A fun way to find out which the Office character you are is to ask others. An excellent idea would be creating a social media poll where your followers are the judge.
Take a personality quiz and compare the results
The following table shows the MBTI of the main characters of the show. You can compare your type to them to see who is possibly your soulmate or lost twin—if you will.
| | |
| --- | --- |
| The Office Character | Type of Personality (MBTI) |
| Dwight Schrute | ESTJ: The Executive |
| Angela Martin | ISTJ: The Logistician |
| Kelly Kapoor | ESFJ: The Consul |
| Ryan Howard | ESTP: The Entrepreneur |
| Kevin Malone | ISFP: The Adventurer |
| Holly Flax | INFP: The Mediator |
| Michael Scott | ENFP: The Campaigner |
| Jan Levinson | ENTJ: The Commander |
| Phyllis Vance | ISFJ: The Defender |
| Stanly Hudson | ISTP: The Virtuoso |
| Oscar Martinez | INTJ: The Strategist |
| Andy Bernard | ESFP: The Entertainer |
| Nellie Bertram | ENFJ: The Protagonist |
| Creed Bratton | INTP: The Logician |
| Pam Beesly | INFJ: The Advocate |
| Jim Halpert | ENTP: The Debater |
Are You into TV Show Quizzes? Here Is a Piece of Good News
QuizExpo has a category of fun quizzes dedicated to TV & Movie. But here are some honorable mentions (aka quizzes that you will probably love):
** All of the images credit: NBC & Global Television Network
How to Play?
Playing personality quizzes is straightforward: Choose the option that's true about you—or you relate to—and select "Next." Unlike trivia quizzes, personality tests have no right or wrong answers. But the questions are in forced-choice format. The point is to push you to choose an option that makes the most sense, not the one that's 100% true. For the most accurate results, don't overthink your responses. Go with options that you "feel" are the best.
How many questions does this quiz have?
20 questions
How long does it take to complete this quiz?
6 minutes
Questions of the quiz
Question 1

It's a Monday morning in the office. Dwight wants to hold a briefing meeting right now. What do you say/do?

Sounds like a professional idea. I say yes.

I say hell, Nah!

I say yes because Dwight probably needs it.

I'd try to convince him it is not necessary.

Question 2

Michael hates Toby. He is wondering, "why Toby is the way he is?" What do you think about that?

It is hilarious.

It is sad.

It is disrespectful.

It is fair.

Question 3

Andy believes that Fridays should be Party Day in the office. Do you agree?

Of course not.

Sure!

I'd agree if others do.

I might agree, but it depends.

Question 4

Dwight and Jim are fighting. Jim pulled a cruel prank on him, and now he is mad. Who do you side?

Jimmy.

Dwight.

None of them.

It depends.

Question 5

Kevin Malone eats behind his desk even when the launch hour is over. How do you feel about that?

It is pretty standard.

It is okay.

It is against the rules.

He overeats.

Question 6

Stanley hates Creed. He believes that Creed is a narcist. Do you agree?

Both of them are narcists.

No, I disagree.

He might be right.

Who cares?

Question 7

What do you think about Toby Flenderson?

He is creepy.

He is useless.

He is mysterious.

He is disgusting.

Question 8

Who would you date if you were living in the Office universe?

Pam Beesly.

Andy Bernard.

Ryan Howard.

Nellie Bertram.

Question 9

You should vote for the top employee of the month. Who would you vote for?

Question 10

Phyllis Vance lost an essential piece of document. What should be done now?

She needs to be fired.

Nothing. She didn't mean it, anyway.

There are no "important documents" in the office.

She should be punished.

Question 11

Jan Levinson is_________________.

Hot.

Bossy.

Selfish.

Bummer.

Question 12

Kelly Kapoor is your supervisor now. What do you think of that?

It is stupid.

She is not professional at all!

It is fine.

It sounds like a nightmare.

Question 13

The Dunder Mifflin building is on fire! You can save only one person. Who would it be?

Pam Beesly.

Jim Halpert.

Dwight Schrute.

Michael Scott.

Question 14

You caught Pam kissing a stranger outside the office. Would you tell others?

Yes, of course.

I'd blackmail her.

No, I would not.

I would not tell others if she pays me.

Question 15

You see Kevin crying alone somewhere in the office. What do you do?

I hug him right away.

I make jokes to make him feel good.

I pretend I did not see him.

I convince him that crying is pointless.

Question 16

Which of the following ideas is excellent for making jokes?

A joke that takes place at a funeral.

A joke about how foolish your life is.

A sex joke.

A joke about workaholics.

Question 17

Kelly's mom has died. How do you console her?

I try to make her laugh.

I tell her about my losses.

I buy her a gift.

I tell her that death is a part of life.

Question 18

What is your biggest fear?

Death.

Loneliness.

Sickness.

Aliens.

Question 19

You find out that (somehow) Kevin is an alien. He was spying on human beings all the time. What do you do now?

I ask him to take me to his planet.

I laugh my ass off.

I call the FBI.

I try to spy on him as well.

Question 20

Which of the following characters' death would hurt you the most?

Angela Martin.

Toby Flenderson.

Andy Bernard.

Kelly Kapoor.